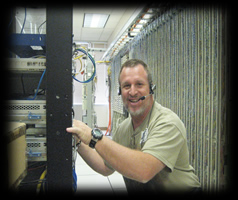 We Want to be ...
your "IT Guy" ...
When you have a networking or computer need, we want you to consider "us", and think of us as the "one guy" you call for help, and to assist you in your computer needs!

Cloud / Office Networking & Computing has become a popular buzz word, but what does it all mean? Well, "we" are the folks to help you understand it, plan it, and implement it for your office needs! Some things offered may not be necessary ... we want to help you keep your costs down, and at the same time, keep you on the leading edge of technology!
Need a new PC, or a printer? Need help installing software, or setting up a workstation? It doesn't have to cost you an arm and a leg to get it done right! In the long run, we save you so much money! The wrong decision in today's technology, can have you paying for the next three to five years because of a mistake in not calling us first!
Call us today!



Concerning Smartphones for the Office Staff


You'd better make sure you do your homework, because this decision is going to have you locked in for the next two years - right or wrong! Do I need iPhones or Androids, or maybe Blackberry devices?


There is "a lot" to know about the back-end of each, and what will and won't work, for you! We can help!
Call us today and let us help you make the right choice the first time!
We build custom computer systems, and we always find good computer deals on all sorts of hardware and refurbished PC's! We build "beefy" performance systems, than not only look "powerful" on the outside, but have inside components that perform! These systems are "built" for performance, and the next upgrade costs a lot less than a new system! So if you have a need or request, we can put together a system quote to meet your needs. We are not always the cheapest, at the initial price, but rest assured we put you into something that will not leave you "high-and-dry" down the road. Your savings comes with performance! And, you won't be having to call us back to "fix it" later because we cut some corner to give you a cheaper price ... we believe in repeat business! If we treat you right, you'll be back!



We offer on-call phone support, tech support, network cabling and installations, computer/PC installs and setup, VPN setup between your offices or for home-based office users. We even offer just plain "tech advice"!

For instance, let's say you are setting up a home office, and you think you'd just as soon do it yourself. Please, please take the opportunity to talk with one of our informed "guru's" on Home Computing, before you begin! The consultation is "FREE"! And, you can save yourself a lot of money if you do it right, the first time out!
If you are a realtor and need help with software applications, or in developing flyers, we've got folks that can do that for you, saving you time to do other the things that your business requires to get the job done, or we can show you how to do it and save time in the process! We've set up in-office servers for various Realtor companies, that connect network printers, store files, and make your files at work available to you wherever you are! It's not that hard, nor is it expensive, if you know how to do it ... the right way!


Contact us at: (512) 782-9949 and find out today how we can be the one person you call when you need an "IT GUY"!

We know "Social Networking" !






... It's one of our specialties!

... we also do "website design"!





---
- Full Services -
- Pre-purchase Advice -
- Office / Home Networking -
- Wireless Networking -
- Virtual Computing -
- Mobile Office Setup -
- Cloud Computing -
- VPN Networking -
- Server & Lan Support -
- Software Training/Support -
- Home Office Setup -
- Website Hosting / Design -
- Social Networking -
- Writing -
- Home Networking -

---






Tech Blogs
Check out our blogs on, well ya' know, ... "things"
<click here>